Alianza Freight LLC is proud to offer a TMS solution for accounting and dispatch software-database package for small to medium sized
motor carriers in the trucking industry. Alianza TMD (Trucking Management Database) can help with Dispatch, Invoicing, Driver Pay,
Expense Recording, Tax Reporting, IFTA/IRP, Maintenance Records, and More. Release 2.0 is now available! Using this software we
were able to pass a DOT audit in less than 8 hrs. The auditors were very impressed with organization and reports available to facilitate
the audit. They are quoted as saying "I wish everybody I audited had this. This makes it so easy and quick!"

•Software developed by a company actively engaged in the industry, operating our own fleet.
•User friendly screens; Drop Down List Boxes, Auto Populate Fields, and Hot Keys common throughout
•Can assign multiple drivers to a load and keep their payroll separate
•Calculate driver pay by Mile, Hour, and/or Percentage (allows changes on case by case basis)
•Keep track of Express Code distributions
•Can record Advances, Lumper, Detention, Advance Fees, & ect. to a load without having to do double entry accounting
•Income/Expense report formatted to help file taxes, weather filling with IRS Form 1120, or IRS Sech C
•Form Tables are searchable, sortable and filterable
•Full detail instruction manual with screen images
Take a quick tour by scrolling down. Or for more detail information of capabilities and use download the User Manual.
If you have other questions or interested in a custom package please email: contactus@alianzafreight.com
Order Now for $10.00
We will send the software via a ZipFile email attachment within 1 business day of your order payment clearing.
to use this package, all the screens are set up for the end user to simply point & click and input their information.
A free runtime version of Access is available for download from Microsoft for users that do not have Access installed on their computer.
Order Entry Screens:
Can build a load in less than 90 seconds. Simply Double Click on a line to select a previous entry or insert new information on a blank line.


Accounting Screen (Payment Processing):
Can record Advances, Load Adjustments, Driver Pay, and Generate Invoices all from one screen.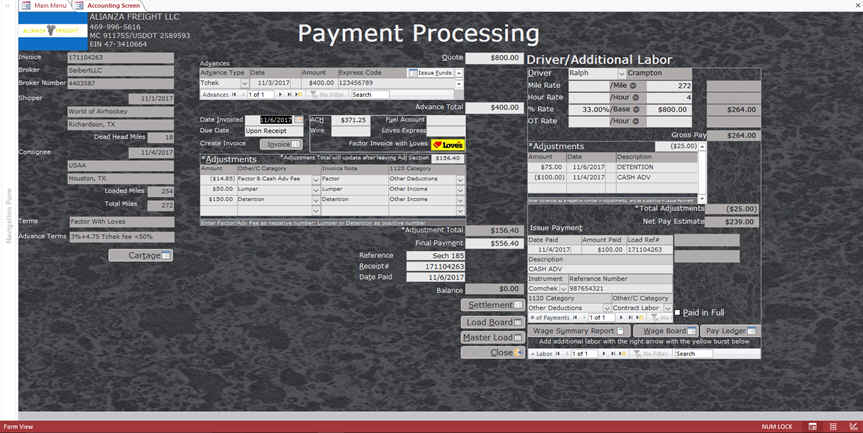 Open Load Board, Master Load Board, Schedule screens:



Report Selector Menu:
Quickly select common date ranges or input custom dates for reports.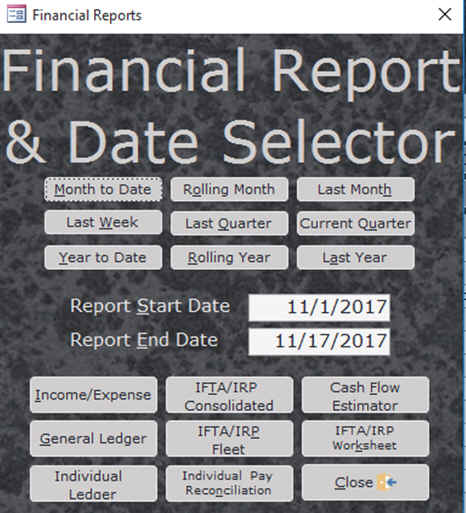 Wage Board and Compensation Report:



Expenses/Equipment Maintenance Screen: